An irresistible smile with ZAO Vegan Kiss Kiss Bang Bang ZAO Palette!

After your lip balm or directly on your mouth, apply the lipstick of your choice with the brush. First draw the contour and then finish with the lips' hearts.
Rouge Grenade 01 lipstick needs to be heated with the finger because of its dryer matte formula.
Tip: Use 2 or 3 shades to draw the lip contour and create a gradient of colors for a plumping effect and an irresistible mouth!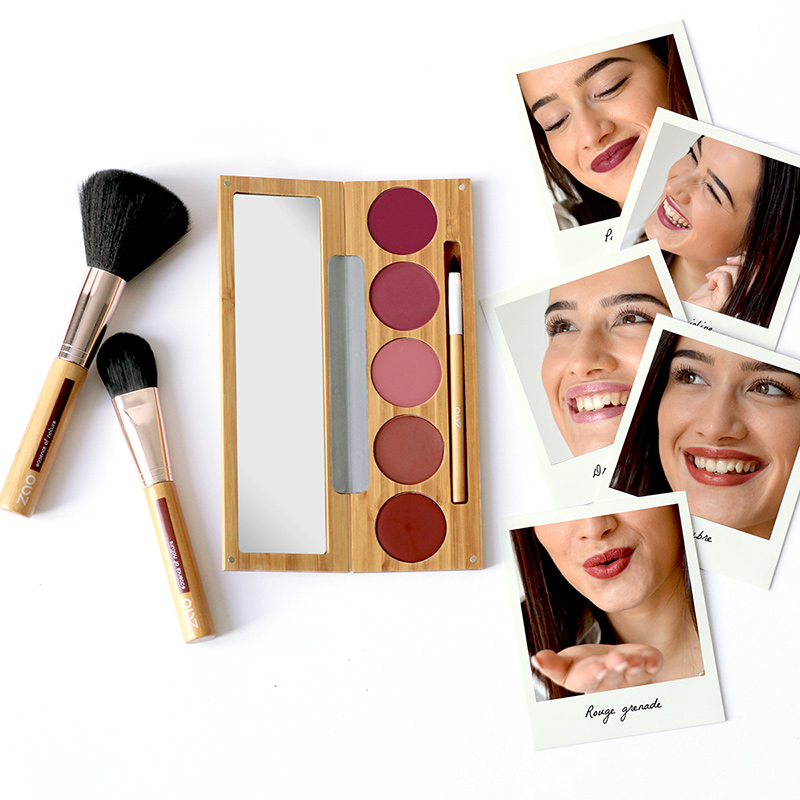 Rouge Grenade (01): A warm red that goes with all skin tone tones. This pomegranate red is the ideal shade for elegant daytime make-up.
Ambre (02): The warm, luminous shade of this lipstick is ideal for a healthy glow to the face.
Dragée (03): This very soft shade illuminates lips and softens facial contrasts for a natural look. Perfect to counterbalance more intense eye make-up.
Rose Violine (04): This satin lipstick is a very natural violet pink, a fresh, vitamin-rich shade that enhances lip colour in a soft and subtle way. A must-have!
Pourpre (05): Its beautiful intense, luminous purple red shade beautifies and gives lips a glamorous, pulpy look.